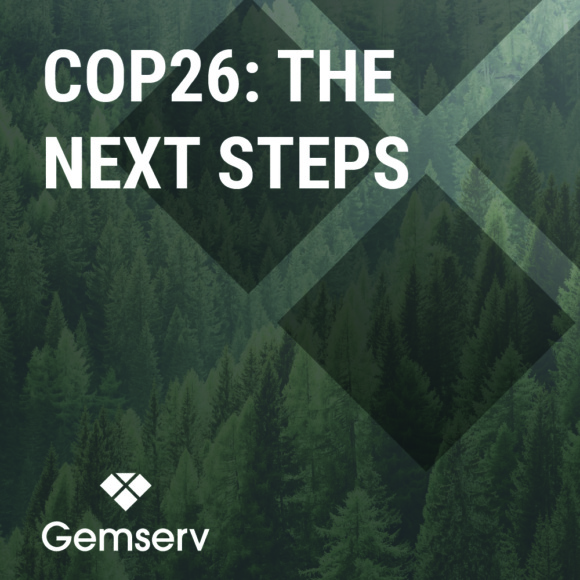 COP26: The Next Steps
Following on from COP26 - UN Climate Change Conference, our colleagues share some reflections and some hopes for COP27.
Watch Video
Firstly, a little bit about COP26
COP26 is the world's most important summit on climate change, and this year the gravity and urgency it represents is palpable. In recent years, the devastating effects of climate change have been felt much closer to home, the need for action is not imminent but now at a critical juncture.
November 2021 marks the 26th Conference of the Parties (COP) summit and will be hosted in partnership between the UK and Italy. Following COP21 in Paris, countries will report on their progress over the past five years, and big decisions will need to be made to further align activities with the need to limit global temperature rises to 1.5oC.
The summit will be attended by the countries that signed the United Nations Framework Convention on Climate Change (UNFCCC) – a treaty that came into force in 1994.
What does it mean for you and your business?
Tackling climate change is the biggest challenge facing our generation… But what does COP26 mean for business and the wider economy? Last year was the third warmest, fifth wettest and eighth sunniest on record. In the last 30 years alone, the UK's climate has warmed by almost a whole degree. This summer's weather is further testament to this with wildfires in Greece and floods in Europe on a scale not seen before.
Have you considered the implications and opportunities COP26 presents?
New policies and regulations are likely to be introduced to encourage energy saving and the uptake of low carbon solutions. Is your business fully prepared for these?
There is increasing interest in green investment with the finance sector keen to support sustainable assets and business models.
There has been a shift in consumer and business behaviours in favour of eco-friendly choices with awareness of and demand for low carbon solutions increasing, presenting an opportunity to diversify and modernise your systems.
To ensure your business remains competitive, you will need to innovate and adapt to take advantage of and support the transition to net zero.
Green jobs will be in high demand, expand your team by attracting and retaining dynamic and diverse talent.
Consumer behaviour is changing as well as our collective interest in finding solutions to combat the climate crisis. We believe that achieving net zero is possible if we clearly understand the role that digital transformation, sustainability and diversity can play in bringing about positive change.
The COP26 summit offers a great platform to highlight the fantastic achievements to date but also an opportunity to call for more action. We are calling on the UK Government to introduce an inspiring, long-term and stable policy framework to support the net zero transition.
COP26 - In Focus
Ahead of the event, we will be exploring what COP26 means for key sectors of the economy; the public sector, cyber security, health and wellbeing, digital transformation, and energy and look at some of the most challenging areas to decarbonise including heating and transport. Bespoke interviews will be conducted between our leading experts and dynamic business leaders who are driving change in their sectors. We will also be test-driving hydrogen cars and lifting the bonnet on the burgeoning electric vehicle industry. What are the real opportunities for consumers and businesses when it comes to clean transport?
This page will be a hive of activity and insights as we head towards the summit in November. If you are interested in learning more about the exciting opportunities that lie ahead for us as business leaders, responsible consumers, and advocates for a greener future, stay with us. Follow us on social to read insights and updates as we approach the summit.
Follow us on LinkedIn
How we measure up
Here at Gemserv, we work with Government and industry to shape and implement the most innovative policy, strategy, and schemes to deliver net zero. We are not only helping our clients reduce their emissions and transform low carbon markets, we also made a firm commitment as a business in 2019 to cut our own contributions to climate change.
Gemserv has been accredited with carbon neutral status in accordance with the Carbon Neutral protocol.
As Gemserv grows, we can have a greater impact through the services we provide others in areas that make a positive difference. Our Corporate Social Responsibility commitments remain a key element of our 'Profit with Purpose' approach. Our staff and, increasingly, our clients expect nothing less.
We are Carbon Neutral

We are proud to be a completely carbon neutral company. We invest in carbon offsetting projects to mitigate the impact of our tCO2e (carbon footprint).

Working together in the Race to Zero

We are proud to have joined the Race to Zero by committing to the SME Climate Hub, a hub which is recognised by the United Nations Race to Zero campaign.

West Midlands Net Zero Business Pledge

We are delighted to have signed up to the West Midlands Net Zero Business Pledge business pledge.
Related Content
Read our latest insights into the Low Carbon sector by clicking the link below.