This year's EV Charging Infrastructure 2022 event is set to become the UK's leading exhibition and conference exclusively for the automotive and electrical power industry, to meet and collaborate with a large array of charge point developers and policymakers. Leaders will examine new developments in electrical infrastructure and charge point technologies and address how the industry plans to support the growing use of electric vehicles.
Key topics to be covered include:
EV charging infrastructure and e-Mobility industry forecasts
Exploring the next generation of smart and efficient EV charge points
Latest research in V2X Technology and Ultra-Fast charging for electric vehicles
Evaluating the current policies and future plans for cities and network development
Upcoming regulations and industry standards for developing intelligent infrastructure
New case studies from charge point developers and working with policymakers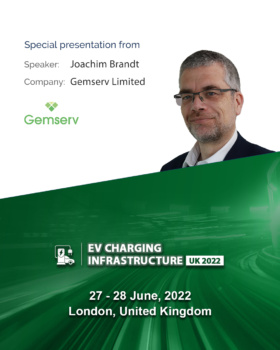 Gemserv's Head of Electric and Autonomous Vehicles, Joachim Brandt will be speaking on day 2 of the event on Public Charging Infrastructure for Optimal Electric Fleet Operations.
Joachim's presentation aims to cover:
De-risking the roll out of charging infrastructure
Optimised charging for on-street infrastructure using real-time data
Accelerating the transition to electric fleets with a fit for purpose on-street charging network
Who should Attend?
This event will provide a forum for all stakeholders across the automotive and electrical industries to network and build cross-market relationships and explore new technologies and innovations addressing the real challenges of electrical infrastructure and e-Mobility growth for the UK.
How to Register?
To find out more about the event, including how to register please visit the event website: