Gemserv's Heat Network Efficiency Scheme (HNES) Delivery Partner team were invited for a tour of Equans' (formerly ENGIE) Queen Elizabeth Olympic Park and Stratford City District Energy Scheme.  
The first thing you notice getting off the train at Stratford is the vast number of cranes and building work going on at the Olympic site. It's been ten years since London hosted the Summer Olympics here, but construction is showing no signs of slowing down.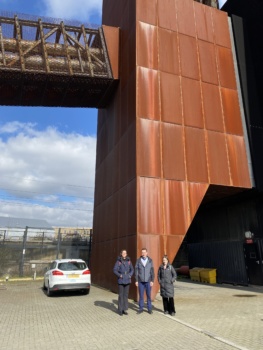 This is just one reason why this heat network is unique. The site was intentionally over-scoped, as any building constructed until 2053 within the concession area run by Equans must connect to the heat network. The site has a varied customer base, ranging from residential and office buildings, to Westfield Shopping Centre, the Olympic Stadium, the Aquatics Centre and all of the other Olympic Venues. 
The network provides both heating and cooling to its customers via a biomass boiler, gas combined heat and power (CHP) plant, dual-fuel boilers and chillers to meet demand. Equans are keen to reduce the carbon emissions associated with the network and have a dedicated team considering different low carbon options to be introduced in the future, such as heat pumps and Energy from Waste. 
Our visit was timely as the UK faces an unprecedented cost of living increase, with gas prices soaring globally. While the UK Government is introducing measures to help domestic customers address their rising utility bills, most district and communal heating network customers fall outside of this support. This is because their gas is purchased by the network operators, and they are treated as commercial users. The landscape is set to shift, with the Department for Business, Energy and Industrial Strategy (BEIS) recently announcing that heat networks will become regulated by Ofgem (the Energy Regulator)¹. Ofgem will be granted new powers to regulate heat network energy prices, however, this will take time to establish and implement. Equans' scheme on the Olympic Park is unusual in the fact that the customer tariffs are regulated by the local authority, the London Legacy Development Corporation (LLDC).  
An alternative, effective way to reduce energy costs is to use less, and this is why schemes such as HNES are so critically important. Improving the efficiency of a network reduces the amount of energy being wasted and ensures customers only pay for the energy they use. Inefficient heat networks are less effective, use more energy, and require more money to run. HNES has been specifically designed to tackle inefficiencies in existing heat networks, either through undertaking an optimisation study to identify where networks can be improved, or through capital works to rectify issues².  
The HNES Demonstrator has been massively popular, and Gemserv welcomes BEIS' recent announcement that a Main Scheme will be open for applications in Spring 2023. If you have a heat network that you'd like to improve, please contact hnes@gemserv.com to be added to our mailing list regarding any future updates on the HNES Main Scheme. 
---
[1] UK government announces major expansion of heat networks in latest step to power homes with green energy – GOV.UK (www.gov.uk)
[2] Heat Network Efficiency Scheme Demonstrator (closed to applications) – GOV.UK (www.gov.uk)