Following a statutory consultation in June 2020, Ofgem has published its decision on new requirements suppliers will need to comply with from 22nd January 2021. So, what are the key changes coming into force and what will these mean for suppliers?
The proposals introduce a combination of new principles-based and prescriptive requirements that suppliers will need to prepare for. These strengthen the regulatory regime, aim to improve energy supplier standards and minimise industry and consumer exposure to financial risk and poor customer service.
What are the new requirements?
The figure below summarises the timeline for new requirement implementation.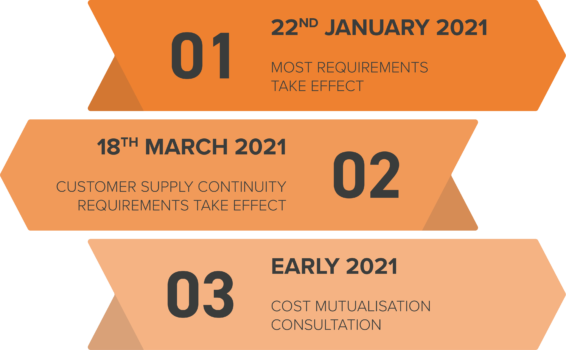 There will be some key changes following this timeline outlined below..
22nd January 2021 – Promoting more responsible risk management
The effects of poor supplier risk management are ultimately felt by the consumers. Ofgem is now implementing the following measures to reduce the need to mutualise costs if suppliers exit the market:
Cost mutualisation protection – Suppliers must manage finances effectively and have adequate financial arrangements in place to meet the costs that would be mutualised if they were to exit the market. These include costs under government/environmental/social schemes and customer credit balances. Suppliers should ensure and will be required to show that they are able to meet mutualised costs.
Operational capacity principle – Suppliers must ensure that they have and can evidence capability, systems and processes in place to effectively serve their customers.
Milestone assessments – Suppliers must undergo "milestone assessments", providing information to Ofgem when they reach 50,000 and 200,000 domestic customers to evidence their readiness for growth and ability to meet regulatory obligations. Suppliers may also be required to undergo additional "dynamic" assessments if Ofgem has specific performance/financial concerns with the supplier.
More responsible governance and increased accountability
Ongoing fit and proper requirements – Suppliers must ensure individuals with significant influence in the business are fit to occupy their role.
Principle to be open and cooperative with the regulator – Suppliers must be open and cooperative with the regulator and proactively share information that may give rise to consumer detriment.
Increased market oversight
Independent audits – Ofgem may request suppliers to complete independent audits if Ofgem has concerns around customer service capabilities or financial stability.
Monitoring and reporting – Suppliers must report changes in control of the business to Ofgem.
Exit arrangements
Ofgem will require suppliers to update customer contract terms to ensure administrators are subject to some of the same requirements as suppliers. Ofgem will be able to prevent customer book sales that may be harmful for consumers.
18th March 2021 – Increased market oversight
Customer Supply Continuity Plans – Suppliers must produce and maintain "Customer Supply Continuity Plans" setting out clear terms of their market exit to protect customers and minimise wider market impacts.
Early 2021 Consultation
Further cost mutualisation protections – Considering more prescriptive measures to minimise risk and mutualisation of credit balances and Renewables Obligations costs.
How Gemserv can help?
Suppliers will need to prepare quickly for these changes. They will need to ensure they understand the new obligations, have the capability to provide information to Ofgem when required and develop/update procedures to ensure compliance and sufficient levels of consumer protection.
Gemserv's regulatory services consultants have extensive experience in supporting suppliers through regulatory change, implementing and assuring new processes.
For more information on the current proposals from Ofgem and how Gemserv can help you, please contact our team by emailing regulation@gemserv.com.
You can also find out more about our regulatory work and services by clicking the link below.