An ambitious project to harness the UK's water heaters to help manage the National Grid offers huge potential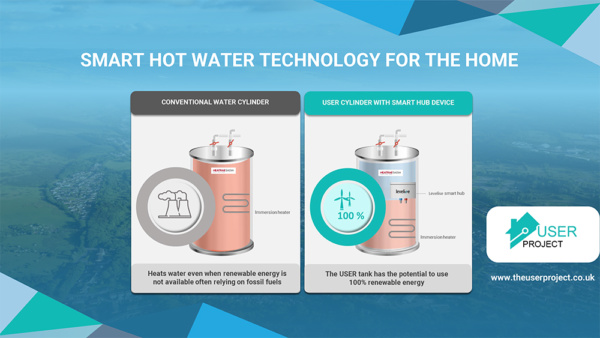 The UK's net-zero target demands increased growth of renewable power generation from 19% in 2017 to 50-75% by 2050.[1] As we increase our dependence on intermittent sources such as wind-power and solar-power, there are likely to be challenges in maintaining a secure and reliable energy system. At times we are likely to have insufficient renewable generation and at other times we may have far more generation than we need.
To ensure it all works, greater flexibility may be required across the entire energy system to balance supply with demand. Smart Demand Side Response (DSR) can play a key role in facilitating this. By avoiding or increasing consumption locally instead of building back up power stations or huge storage devices, we are maximising the use of available power supply. The UK could save £17 – 40bn across the electricity system from now to 2050 by deploying flexible technologies that integrate variable renewable energy sources[2].
DSR shifts energy consumption when energy supply and demand diverge by forwarding price-signals to energy users to incentivise changes in consumption patterns. There are DSR mechanisms available today which allow for domestic buildings to participate in DSR such as time-of-use tariffs (i.e. Economy 7) or dynamic pricing tariffs that are being enabled by the UK-wide smart meter roll-out.  Whilst these are encouraging consumers to rethink the way they use energy in the home, it relies heavily on a change in behaviour which is less predictable, scalable and instantaneous. There may be a market opportunity for smart DSR technologies that run automatically in the background to provide near-immediate flexibility services to the grid, in a way that benefits the entire energy system and enables homeowners to benefit directly from renewable generation.
Scaling-up energy storage assets to retain the extra power produced by increasing the generation of online renewables will be a critical piece in enabling the energy transition. With domestic buildings being the second most energy-intensive sector after transport[3], the potential for using smart DSR technology paired with energy storage to help the grid to unlock flexibility services from UK homes is significant. Battery storage solutions can be particularly effective in enabling self-consumption for homes fitted with a PV system that will inevitably generate more renewable electricity than is needed at certain times. Through smart DSR, these can be optimised to also provide grid services and secure an additional revenue for the owner. Despite this recognised potential, the high cost attached to battery storage technology has remained a key barrier for widespread uptake in the UK. Similarly, novel technology solutions like overhauled DSR-enabled hot water cylinders are appropriate in terms of space but require the household to replace their existing system prematurely. With the average life expectancy of a cylinder estimated at over 25 years, uptake may be limited and an add-on retrofit solution to existing products may be more marketable.
The Ubiquitous Storage Empowering Response (USER) Project seeks to overcome these barriers by offering a choice between a new cylinder or repurposing conventional hot water cylinders. With a hot water cylinder in roughly one in three UK homes today, this represents a combined thermal storage capacity (TSC) of 100GWh, even before we consider the record number of homes set to be built across the next decade. To put this into perspective, that's 9 million hot water cylinders and a capacity equivalent to 6 million Tesla Powerwall units – at a fraction of the cost. Since it's a simple 'add-on' device, it's a solution for all new and existing homes that doesn't require a costly and unfamiliar heating system replacement.
The key to unlocking this opportunity is an integrated AI-led solution developed by Levelise and Baxi Heating which enables nearly all existing cylinders with an electrical immersion heater to be transformed into grid-interactive ones. The solution combines an AI-led optimisation service via Internet with a control unit that allows for retrofitting additional sensors onto a hot water cylinder. Levelise contributes with the former, whilst Baxi Heating with the latter. By doing so, the thermal dynamics inside the tank can be modelled, whilst allowing for automatic learning of the end user patterns. This transforms a standard cylinder into an asset that can be monetized in the balancing market or can provide ancillary services reliably, only doing so when it is efficient, economic and aligns with lifestyle needs by predicting both – all AI-driven, anonymized and without any human intervention.
Hence, the AI-led solution works by forming communities of individuals and pursues to exploit their consumption diversity whenever is possible, so consumers collaborate to provide the service when is more beneficial for them. Not everyone's hot water needs occur exactly at the same moment in time. Thus, the ability to predict their individual needs, together with the capacity to accurately model their systems allows for bespoke schedules for their immersion heaters which makes the more of their systems and the market. This also allows for identifying which individual is more suited at a particular time of the day to accommodate excess from the grid. This is all whilst working alongside any primary source of heating, such as gas boilers or heat pumps.
Nevertheless, the technology and commercial angle is not the only crucial part of the project; The key is also in the engagement with consumers, how they perceive the solution, what is the opportunity for a hot-water-as-a-service model and whether there are any non-technical barriers. This is being explored by the Energy Systems Catapult, as part of the project, to ensure its wide adoption can be achieved.
The unique proposition of the USER Project aims to maximise efficiency system-wide, so energy is used in an optimal way with respect to the home-owners and the energy system's response needs, by tapping into the significant latent storage capacity provided by domestic hot water storage assets. Given that heating hot water is the second most intensive energy use in homes, this combination will also help to decarbonise all kinds of heating systems, starting with a batch of 50 Social Energy customers who are trialing the technology and ramping to 350 homes by next Winter.
These 350 homes will form a virtual community, each interacting with each other and with the grid in real-time to help take the pressure off the electricity system when required by providing 1MW of flexibility 24/7 efficiently and economically. Thus, the AI-solution allows for stackability of multiple revenues such as firm frequency response, imbalance management, peak shifting and wholesale arbitrage, among others. These will not be achievable otherwise. Furthermore, in the move towards multi-vector energy systems, the interplay with li-ion batteries is also explored.
The USER Project is being undertaken by a group of organisations working within the low carbon energy sector including Levelise Limited, Baxi Heating, Ecuity Consulting, Durham University and Energy Systems Catapult. The trial is part-funded by the Department for Business, Energy and Industrial Strategy' Innovative Domestic Demand Side Response competition[4]. With a holistic approach, the technical data and consumer insights acquired from this virtual community of 350 homes will be used to demonstrate the commercial proposition of the technology.
The team seeks to engage with housing developers, associations and local authorities who are interested in finding out more about how the project and Smart Hub can help homes deliver benefits to the energy system whilst supporting the decarbonisation of heat through optimising hot water use.
For more information on the project, visit :
This article was written by Christina Thompson-Yates and originally published in the May edition of H&V News Magazine.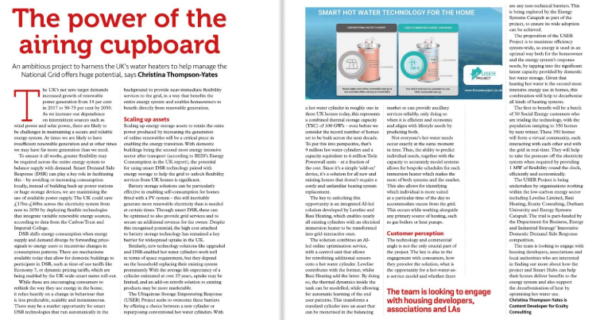 ---