We have a wealth of experience in successfully delivering measurable business outcomes and ROI from digital transformation strategies and programmes into heavily regulated markets, predominantly the energy market.
We support customers in any sector, from conception to adoption, or at any point on their digital transformation journey while safeguarding against risk.
We are well positioned to ensure sector-specific regulatory compliance with all our data driven digital transformation strategies and programmes. In the UK energy market, we are the driving force behind building the new, digitally transformed switching arrangements under the Retail Energy Code, and managing the smart metering program rollout through the Smart Energy Code. Cyber security and data privacy is also built into all of our strategies and programmes for full compliance and assurance.
We know every customer is unique.
We are a flexible, technology-agnostic partner, and can deliver data and technology strategy, governance, and optimisation solutions that are tailored to precise business needs. This drives improved value on technology investments and reduces costs through improved operational resilience, more robust security, business agility, and staff productivity.
Why 

work with

 

Gemserv

 on your digital transformation journey

?
Impact

We are lean, agile, flexible, and focused on delivering measurable business outcomes

Trust

Successful key stakeholder management is in our DNA and leads to lasting customer relationships

Customer centric

We understand every customer is different and our solutions are tailored to your precise needs

Innovation

We embed innovation by understanding the competition, talent, tech evolution, regulatory change and market conditions

Sustainability

We believe in 'profit with a purpose', achieving a positive social and environmental impact through digital transformation

Security

Safeguarding against risk is built into all our digital transformation strategies and programmes
Energy 
We are a Digital Transformation specialist consultancy in the Energy market: Our data and digital capability aligned with deep Energy Market regulatory expertise and insight allows us to uniquely support customers and partners in solving complex challenges, and creating new business opportunity. Click below to view in detail.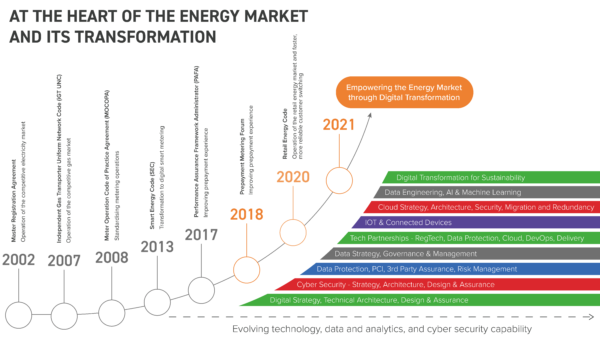 Energy Market relevant use cases and solutions
Regulatory Compliance Reporting
Automated collation and submission of regulatory reporting. Early sight of non-compliance with guided resolution paths to empower operational support teams, reducing the cost of compliance and drain on resources whilst improving customer experience.
Data Quality Monitoring and Cleanse to Enable Faster Switching and/or Improved Customer Experience
Helping you to set up the appropriate level of governance to manage data quality issues linked to business critical data items. Implementing the technology to measure baseline and target data quality metrics. As well as supporting the remediation or prevention of bad quality data.
Single Customer View Data Architecture and Analytics
Creating a unified customer data platform that integrates all customer related data from operational customer journeys to channel interaction. Giving you a 360 degree view of your customers, implemented in incremental steps enabling analysis of lifetime value or key customer segments.
Vulnerable Customer & Energy Theft Detection
Automatic identification of vulnerable customers and energy theft through automated analysis of smart metering data and other 3rd party sources.
Efficient use of the Smart Metering Ecosystem
Early fault detection, just-in-time maintenance and grouping of incidents through analytical pattern recognition, machine learning and automated diagnostics.
The Future of Energy
Platform, data and analytics solutions for monitoring and control of new smart appliances, grid balancing, lifestyle tariffs, on-prem microgeneration and storage.