Proactive approach to cyber security and protection
The growing scale and sophistication of cyber security breaches continue to rise.
The immediate consequences of an attack for your customers are significant, yet the ramifications for an organisation is much wider as criminals may target intellectual property, such as product designs and sales databases. Also, businesses will face regulatory consequences, financial penalties and reputational damage.
As the scale and nature of security threats evolve, taking a reactive approach to cyber security is unsustainable.
Our extensive expertise across risk management, IT security and governance enable us to help organisations to ensure that the correct security processes and procedures are in place to protect themselves.
We work with organisations to develop a robust framework which drives the policies and processes taking a risk-based approach enabling you to anticipate and plan for changes and developments ahead.
Cyber Compliance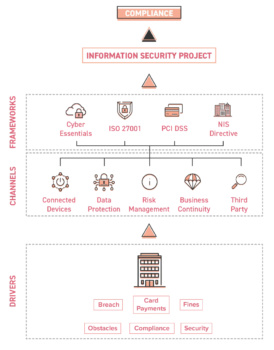 We work with organisations to achieve and maintain compliance across information and data security standards, ensuring the process has maximum impact by directly linking it to benefits for your business.
Our knowledge of compliance and governance also gives us the insight to see the 'bigger picture' across standards (current and those on the horizon). Being able to identify common strands across the many compliance standards and implement in the most efficient way to enhance business processes is where we can really deliver added value for your business. We can achieve this by combining methodologies across compliance standards so that the assessment, audit, ongoing management and communications become streamlined to minimise complexity and duplication.
By working in collaboration, we help develop an effective methodology to embed a robust and secure approach to data which becomes 'business as usual' for your organisation.
This approach means assessments don't become a major drain on resources. Cyber compliance with existing and future standards is achieved and maintained as your business grows or evolves to take advantage of new opportunities.
Cyber Security Testimonials & Case Studies
Our work means different things to different clients and we wanted to share some details of the projects we have managed to give you an insight into our capabilities and the impact we have delivered as a business.
Our Insights
The experience we have built up across many different projects has given us significant insight into how to approach and overcome challenges in cyber security and data protection. See our latest thoughts and examples of how we have helped clients.