Diwali, known as the 'Festival of Lights*' brings prayer, feasts, fireworks and, for some, a new year. It is celebrated by Hindus, Sikhs, Buddhists, and Jains in various ways. In addition to these religious groups, Diwali is celebrated by people from various cultural and religious backgrounds not only in India but across the world in regions as diverse as the Caribbean, Africa, and Far East Asia.
At Gemserv, we asked some of our colleagues what Diwali means to them.
Deepavali
Deepavali (or the anglicised Diwali) is an amalgamation of "Deep" – light and "avali" – string; or in other words, the festival/string of lights. The festival symbolises the destruction of darkness and the spread of light and joy – both literally and metaphorically. We celebrate over the course of few days.
Celebrations start the day before Deepavali, on Dhanteras, by celebrating the divine feminine, Goddess Laksmi (read Luck-is(h)-me) and inviting her to grace our homes with prosperity and eight kinds of wealth – spiritual, material, agriculture/food, royalty/prestige, knowledge, courage, progeny, and victory.
In preparation for this, homes are deep cleaned and decorated to receive the blessings of the Goddess. Also, on this day, people invest in gold or silver, as it is believed that it is one of the forms of the Goddess and is seen as a way of inviting the Goddess home.
Deepavali celebrations usually start well before sunrise. This starts with a medicinal bath with herb infused oils and powders followed by donning new clothes to symbolise new starts and fresh beginnings. We follow this with prayers and then bursting crackers just before sunrise. It is also probably one of the few days that children are up very early, as there is usually a friendly rivalry in the neighbourhood to be the first to herald light and joy through bursting of crackers.
This is a time to celebrate with family, friends and close ones. The rest of the day is spent visiting your nearest and dearest, presenting them with sweets which symbolically wish happiness and joy. Usually, the sweets and snacks are home-made and the preparations for this start well in advance.
The most important and enjoyable element from my perspective is the quality time and positivity we get to spend and spread with family, friends and loved ones.
Aparna Murali – Principal Consultant, Cyber Security
Bandi Chhor Divas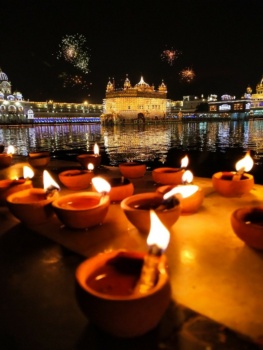 For Sikhs, Diwali commemorates the historical event known as "Bandi Chhor Divas" or the "Day of Liberation". It marks Guru Hargobind Ji, the sixth Sikh Guru's return to Amritsar after being unjustly imprisoned in Gwalior for several years.
Guru Hargobind Ji negotiated the release of 52 Hindu kings who were also imprisoned there, and the occasion symbolises the victory of righteousness over tyranny and the triumph of freedom. Sikhs light lamps and candles to mark this event and celebrate it as a day of freedom and justice.
Amritsar is a city located in the northwestern part of India in the state of Punjab. It is one of the most prominent and culturally significant cities for Sikhs as it is home to Harmandir Sahib commonly known as the Golden Temple.
One of my favourite childhood memories is being in India for Diwali when I was 10 years old. My cousin was talking about how great the fireworks display was at the Golden temple and boasting that he saw them the previous year. I remember running to my Dad and whispering into his ear that we should go to the Golden Temple for Diwali. I remember him agreeing straight away, saying, "Yes, that's a fantastic idea!" Off I went to bed excited for what I thought was going to be just a daddy and daughter day…
The next morning, word had spread throughout the entire village and by 2pm my family plus 40 villagers (including my cousins) were all sat in the back of a trailer embarking on a two-hour journey to Amritsar. We played cards, laughed and joked as my aunties passed arounds flasks of hot chai and aloo stuffed parothas. Everyone was so excited and kept talking about lighting the divas and how we all had to be careful to not lose one another as it was going to be really busy.
When we arrived, I was completely blown away by all the candles and divas lit up and surrounding the perimeter of the beautiful Golden Temple. It looked like a golden palace in the middle of a lake, shining in a sea of candles. I remember lighting my diva and watching it float away. My eyes stayed fixated on my diva alone. It was such a peaceful moment even though I was surrounded by a sea of people.
It is reported that Harminder Sahib typically gets 100,000 visitors a day. This number increases on significant holy days such as Diwali. I don't know how many people were there that day, but I'm pretty sure I didn't see any of the other 40 villagers for the rest of the night. Then came the fireworks display – and this may be the only time in my life I have been left speechless! As the different colours burst into the sky over the Golden Temple, I just stood and watched in awe. Today we continue these traditions. On Diwali, we always go to the Gudwara in the evening and light candles before returning home and having a feast of jalebis (orange sweets) and samosas, followed by lots of fireworks in the back garden. It really is a time for all the family to get together and celebrate.
Suki Masana – Marketing Manager
Being involved in Diwali
Getting involved in Diwali can be a wonderful experience. There are several ways you can participate:
You can simply start by greeting your friends, neighbours and work colleagues by saying 'Happy Diwali'
Attend Diwali Celebrations: Cities and communities, especially in culturally diverse areas such as Birmingham, London, Leicester host Diwali events, like performances, food festivals, and fireworks displays.
Light Lamps or Candles: On the evening of Diwali, lighting lamps or candles symbolises the victory of light over darkness. You can participate by lighting some in your home. We often leave a tealight in each windowsill as soon as it gets dark.
Fireworks: Diwali this year falls on 12th November, shortly after bonfire night. The fireworks symbol the spirituality of light and happiness.
---
Footnotes
BBC News – What you need to know about the festival of light