In recent years, the focus of debates around net zero have rightly been focussed on technology innovation and deployment. 
However, local places are increasingly recognising that the technologies we need to decarbonise are here. The next challenge is to look at the workforce and the skills we need to implement these technologies at scale over the next 17 years to meet our net zero targets. 
One area where there is a significant labour need to drive decarbonisation is the retrofit of insulation and of heat pumps to both reduce demand for energy for heating and to electrify it.  This is a near universal challenge across the UK given that most properties will require some form of insulation or heat electrification over the next 17 years to decarbonise.  
Construction is also a labour-intensive sector, already experiencing skills shortages, so there is an urgency to quantifying the workforce and skills needs. This is a significant problem in a sector worth an estimated 20% of the UK's carbon emissions. We can't meet net zero with decarbonising our buildings.  
However, there is an information deficit both for policy makers and industry. Our clients increasingly tell us that they know that they're experiencing skills shortages, but they can't be sure quite how significant they are, and how they go about addressing them. This theme is rightly gaining traction across the sector, with the publication of the Climate Change Committee's (CCC) reports[1][2] on green skills highlighting the importance of regional green jobs and skills data to inform the net zero transition. Information shortages create a multitude of barriers for all parties to the construction industry from developers, education and training providers and policy makers. Barriers range from the information to make right decisions on recruitment, allocation of skills and training budgets, and the development and prioritisation of new qualifications and the scale of investment required to roll out technologies and when it must be done.
Addressing this information gap was the challenge posed to Gemserv by the South West Net Zero Hub (SWNZH) and the GFirst, Heart of South West and Solent Local Enterprise Partnerships (LEP). To tackle this, we took a four-pronged approach set out below: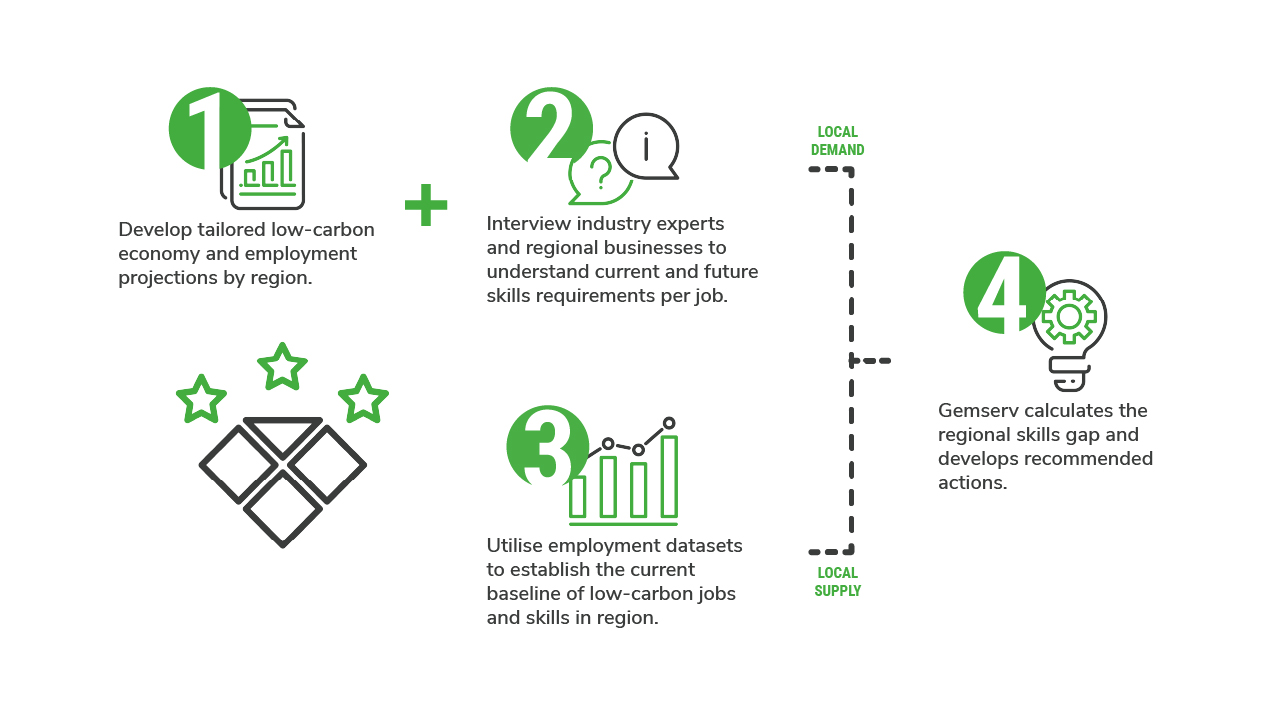 So what did we find? 
We found that the South West has a significant challenge to decarbonise its building stock and meet net zero. The region requires installation of 3 million heat pumps and 1.4 million installations of solid and cavity wall insulation to meet net zero. At current deployment rates it will take 600 years to deploy enough solid wall insulation, 200 years to deploy enough air-source heat pumps. This is despite the region outperforming the national deployment rate of both insulation and heat pumps.  
As you might expect the labour requirements needed to increase deployment of measures by the amount required were significant. To reach net zero by 2030 the South West must train over 10,000 extra solid wall insulation installers by 2028 and over 17,500 extra heat pump engineers by 2027. But there are benefits. We estimated that if they were done to time, 392,000 properties could be retrofitted at payback of 5 years or less. Annual consumer bills could be reduced by over £1bn and that meeting net zero will earn the South West a total GVA contribution of £21.7bn by 2050.  
To realise these benefits there would be significant challenges to develop quality qualifications, ensure funding is targeted effectively, generate demand for retrofit within the consumer sector, and need to introduce and deliver several qualifications within the region that are not currently delivered. The requirement to transform the skills system was also echoed by the CCC's skills reports. We stand ready to support the training providers, industry and government with driving the changes needed.
---
Footnotes
[1] A Net Zero workforce – Climate Change Committee (theccc.org.uk)
[2] Skills and Net Zero (Expert Advisory Group) – Climate Change Committee (theccc.org.uk)