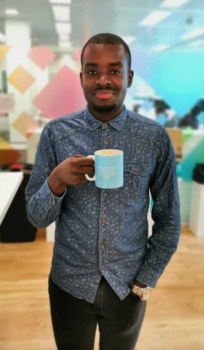 Meet 22-year-old Manuel Diogo, who in September 2018, became Gemserv's first apprentice.
Joining with a desire to forge a career in an industry that he had a passion for, Manuel kick-started his two-year IT apprenticeship scheme. Now, two-and-a-half-years on from taking those exciting first steps, he has successfully completed the course and now works in a permanent, full-time position as a Helpdesk Analyst, a position Manuel insists he couldn't have fulfilled without the skills and grounding the Gemserv apprenticeship offered him.
We caught up with Manuel, over a socially distanced coffee to hear more about his journey.
What made you choose an apprenticeship and why Gemserv?
I have always been more of a hands-on learner, so after I finished my A levels I wanted to learn how things worked in the workplace, rather than from a textbook. In IT, I tend to learn a lot quicker by solving issues first-hand so I felt that it was the best route for me.
One of the factors that drew me to Gemserv was that the company is at the forefront of technology. This would enable me to learn a lot more than just the basics of my job and give me a chance to work with the latest top of the range equipment.
What skills have you learnt since starting at Gemserv?
I've learnt a huge range of IT related skills, but I've also taken a lot more from the experience. Apart from the all the systems we use in Gemserv and how to troubleshoot them, I've also learnt a lot about interacting with different people and departments in a workplace setting. During my apprenticeship we also acquired a new company and had to onboard all of their staff. It was a huge project and the team involved me throughout, which was a great experience to be a part of.
How did you find working alongside completing your professional training and what support did you receive from Gemserv? 
I had time off each week to complete course work, but what worked so well was that I'd then take that learning and use it straight away in the workplace, so it really cemented my skills.
My team were really supportive. When I first started, I shadowed another team member, so if I had any questions, I could always go to him and he was always free to help me. Working in such a knowledgeable, friendly team really enhanced the whole experience. I also had online learning access provided by Gemserv, that helped me learn things outside of everyday work and broaden my knowledge around IT, which was really helpful.
How would you describe the Gemserv culture?
It's an extremely accommodating and very social culture – right from the induction process, I could tell I was going to like it – I even got to meet with the CEO with other new starters to ask him anything. When I first started, I got introduced to a lot of people, and then going on work socials I got to know people on a personal level rather than just professionally, that helped a lot to build rapport, which is important in my role where I'm interacting with so many people.
Congratulations on completing the apprenticeship! How did it feel?
Thank you. You do feel really good about yourself!  Unfortunately for me the pandemic did delay things a little, so when I did finally complete it, it felt amazing.
What's an average day like for you now in your new role as a Helpdesk Analyst?
There's no average day, they are always different!  My morning usually starts off with delivering new starter inductions, and then I log into the helpdesk and see if anything is raised. The rest of my is filled with working on various projects with departments across the business.  
And finally… What would you say to someone who was thinking about undertaking an apprenticeship?
It depends on who you are and what would be best for your development.  If you think that learning  on the job, with some studying alongside would suit you then an apprenticeship is definitely for you. I've taken so much from the experience and as you learn, you are also getting paid which is a plus too!
Just from speaking to Manuel, it's clear to see how much value can be taken from supporting people through apprenticeships, which is why Gemserv is pleased to now be supporting two more employees through apprenticeship programmes.  With a growing range of professional pathways now covered by the apprenticeship scheme we look forward to helping many more people realise their career goals via this route.
Gemserv is proud to have been awarded the Investors in people Gold Standard for two years running, placing it amongst the best companies to work for in the UK. To find out more about life at Gemserv click here. If you are interested in joining us take a look at our latest vacancies on our Careers page.